Taking a gap year, for whatever reason, can be incredibly beneficial to your personal development and can better prepare you for life at university. Whether it is to take a break from studying, volunteer, gain real-world work experience, or travel the world. We'll discover more about the benefits of taking a gap year. There are pros and cons to weigh with every decision, and gap years are no exception. We will discuss some of the most important benefits of taking a gap year and all that goes along.
WHAT IS A GAP YEAR?
Aspiring college students often take a "gap year," a concentrated period off from school. A gap year does not always have to last an entire year, and they are also not distinguished by participating in any specific activities. It's a break from regular academic endeavours during this period. Students put attention on developing themselves through a variety of activities. During their gap years, they commonly engage in activities like international travel, working vacations, volunteering, and internships.
Immersive gap years are getting increasingly popular, and more and more individuals realise they can profit from a gap year even if they stay in their region or local area. Before beginning your adventure, you should familiarise yourself with everything that comes with taking a gap year before making any decisions about how you will spend your time. We will describe some of a gap year's most important pros and cons.
HERE'S WHY YOU SHOULD CONSIDER A GAP YEAR:
Opportunity to try out potential careers
Gaining practical experience is the best way to determine what methods work for you. Students can gain valuable experience in various industries while on a gap year by volunteering or working as an intern. This helps students understand how such fields operate in the real world. They can take advantage of this chance to learn more about the realities of working in their chosen field.
If you're considering a gap year, ensure the organisation you choose supports a cause that interests you. By doing this, you can find out if you can do what you love for a living.
Improve your resume
Gap year's experiences will help transform students and prepare them for the future. Experiences like volunteering, picking up new languages, getting real-world work experience, and even travelling abroad will be considered when it comes time to submit a college or job application. You can show that you are self-motivated by trying to leave the typical school environment and volunteer or travel abroad to use your practical abilities. Institutions abroad highly value this experience.
Understanding different countries and cultures make people more tolerant, independent, and sympathetic. These skills are appreciated anywhere you go in the world.
Discover your passions
It is challenging to decide on a particular job route once you graduate high school. Enrolling in classes for an additional year is the ideal approach to guaranteeing that you enter a degree program that suits your needs and long-term objectives. Taking a gap year will allow you to explore new interests, develop hobbies, and give yourself the time and space to think about what you want out of life.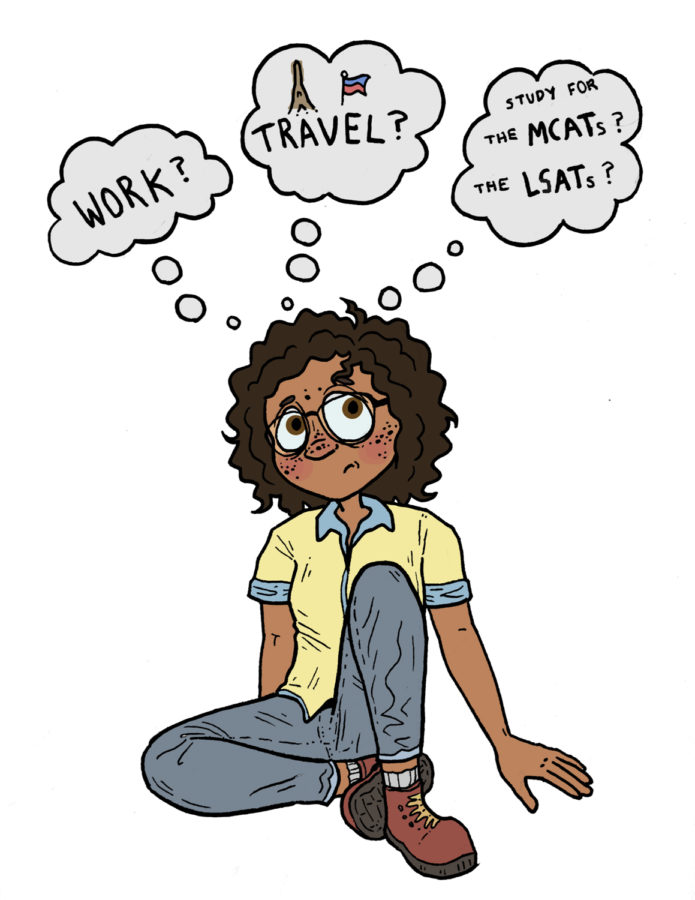 Work and save up
Having fun and earning money may coexist during a gap year; it doesn't have to be about leisure. If you get a job for at least a portion of the year, you will have the chance to take charge of your financial situation and start saving money for college. Set aside money for travel to make this year even more unique. This eases the financial burden brought on by student loans, and it's an excellent opportunity to start learning how to set up a budget and save money.
Become college ready
Thinking carefully before enrolling in college is essential, especially if it will be your first time living away from home. You should learn how to function in various social situations, meet new people, and overcome language barriers. By taking a year off between schools, you can develop skills that will assist you in adjusting to these changes. Independent thinking and self-awareness are "soft skills" that can only be genuinely learned through practical life experience. By taking a gap year, you will have the chance to develop these qualities and boost your confidence gradually.
You can fulfil your dream to travel
After your gap year, you'll be able to focus only on your academics rather than thinking about travelling the world on adventures. A fantastic approach to experience travel and adventure in a safe and well-organised setting is to participate in a gap year volunteer programme. In addition to the USA and Europe, you can take part in gap year programmes in Latin America, Australia, Asia, or Africa.
Apply with Rostrum
Whether you take a gap year or jump right into college after high school, choosing the right college and getting into it are essential. Rostrum Education is here to help you pursue your degree in your field of choice. Let us know how we can help you plan your future college degree path by contacting our team today. Get your free one-on-one consultation today and get started!