The 'Ivy League' comprises eight of the oldest, most incredibly respected and most selective of all higher education institutions in the United States. They are regarded as the epitome of academic excellence, highly accomplished alumni, phenomenal career opportunities with generous financial packages and some of the most cutting-edge facilities in the world. We're here to give you a detailed breakdown of all the schools, just to make choices easier for you.  Read ahead to discover your calling!
HARVARD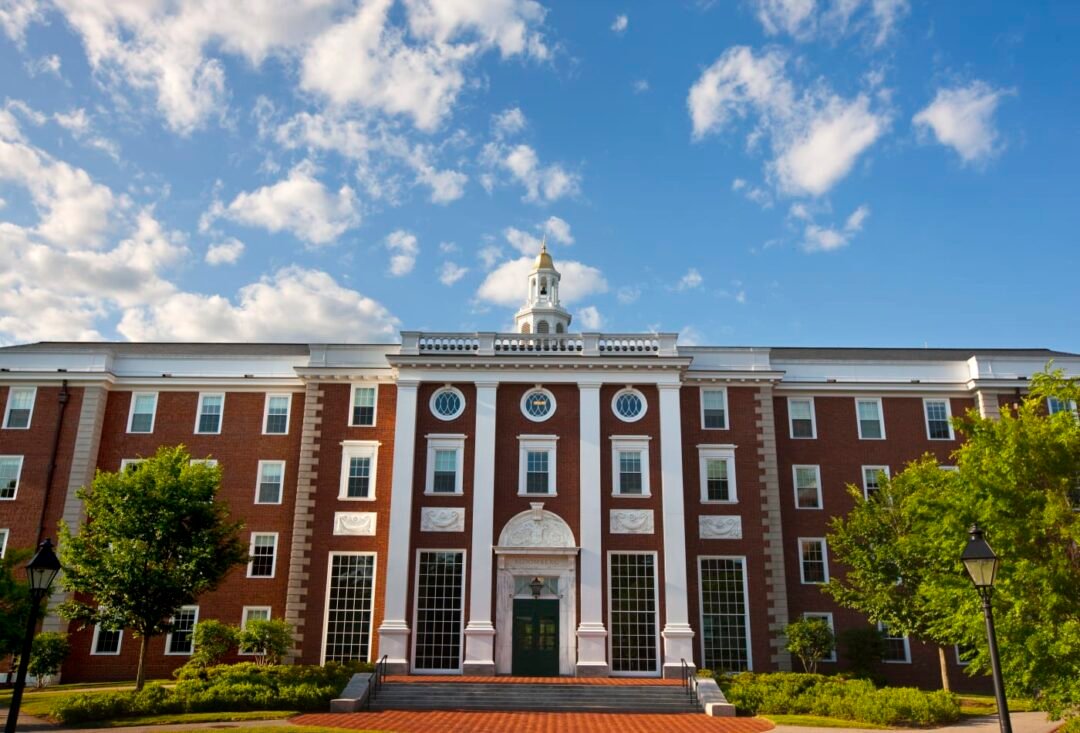 Founded in 1636, Harvard University is the oldest institution of higher education in the U.S. and one of the most selective in the Ivy League with an acceptance rate of just 4%. It is ranked a notable first in the world for its academic reputation (based on QS's global survey of academics) and third in the world for its reputation among employers (based on QS's global survey of employers).
Harvard is situated in the university town of Cambridge, Massachusetts across the Charles River, from Boston. With its historical architecture and flourishing art and cultural heritage, Cambridge has a well-recognised reputation of being an academic hub, with a student-centred community. For those looking out for a bit more of a liberating and cosmopolitan experience, it's an easy ride to Boston enabling the students to benefit from a big city's resources while still enjoying the comforts of a smaller, quieter and laid back setting.
ACADEMICS AND STUDENT LIFE:
Harvard features a set of general education requirements that all freshers in the college must complete in addition to the courses for their major designed to expose students to diverse subjects and make it a holistic learning experience. The school's considerable resources allow for much freedom for academic pursuits, opportunities that Harvard students are sure to tap.
Students at Harvard can access more than 445 extracurricular, co-curricular and athletic organizations. Harvard's all-embracing library houses the oldest national collection and the largest private collection worldwide.
The residential college system at Harvard is designed to foster strong bonds between students and faculty masters. There are 12 residential houses that students are placed into in their sophomore year, each with a distinct culture and personality. Students remain a part of their houses until graduation, coming to form close relationships with fellow students in their house and enjoying all the facilities the houses offer.
PRINCETON:
Princeton University, established more than 270 years ago, is the fourth-oldest college in the country. It has a large 600-acre, stately campus in the New Jersey town of the same name, 50 miles southwest of New York City. It has an acceptance rate of around 6%.
ACADEMICS AND STUDENT LIFE:
Princeton emphasizes undergraduate education as their top priority. Additionally, the required courses enable Princeton students with a diverse and thorough liberal arts education, a hallmark of the university's undergraduate journey.
Princeton offers top academic resources, from specialized libraries to state-of-the-art laboratories and even an art museum on campus. The most popular majors at Princeton University include social sciences; engineering; computer and information sciences and support services; biological and biomedical sciences; and public administration and social service professions. With a 5-to-1 student-faculty ratio, the university allows students to benefit from small class sizes and one-on-one mentoring relationships. The institution also has one of the highest four-year graduation rates in the nation.
There are 37 sports clubs, ranging from ballroom dancing to ultimate frisbee, and the intramural sports program brings students together for friendly competitions such as the popular annual dodgeball tournament. There are several opportunities for socializing and networking with fellow students with the popular 'eating clubs' making up a large part of the social scene.
For housing, Princeton offers typical dormitory-style arrangements or themed residential colleges, communities bonding on a common interest that allow students to live alongside like-minded peers.
COLUMBIA
Located on the Upper West Side of Manhattan, Columbia University is the oldest institution of higher education in the state of New York. For students looking to further explore the city, downtown Manhattan is only a 20-minute subway ride away. The diverse student body and the exhilaration of NYC provide for an intellectually stimulating undergraduate experience.
ACADEMICS AND STUDENT LIFE
The university is made up of three undergraduate schools: Columbia College, the Fu Foundation School of Engineering and Applied Science, and the School of General Studies. The undergraduate experience at Columbia is defined by the Core Curriculum, a set of classes all students in the liberal arts college (Columbia College) are required to take. The Core Curriculum features a heavy emphasis on reading and writing, especially of classical literature.
The university emphasizes research and teaching on global issues to create cross-cultural academic associations. Columbia has nine global centers that create opportunities in research, scholarship, teaching and service around the world. Students can access many academic resources on campus, including 22 libraries; more than 200 research institutes, centers and laboratories; thousands of internships offered through the Center for Career Education; and the Lamont-Doherty Earth Observatory.
Columbia guarantees housing for up to four years, and more than 90% of undergraduates live on campus.
YALE
Yale University is situated in the small city of New Haven, Connecticut, about two hours away from New York City. While New Haven does offer several professional and networking opportunities, most of the action for Yalies takes place on the university's campus.
ACADEMICS AND STUDENT LIFE
Yale has flexible general education requirements and the most popular majors include social sciences; biological and biomedical sciences; history; mathematics and statistics; and engineering.
Yale is known for its drama and music programs at the famous Yale School of Drama. In addition to Yale College and Yale Graduate School of Arts and Sciences, the university has 12 professional schools, including the country's top-ranked law school and highly ranked schools of medicine, management, art and nursing.
Yale is renowned for its exemplary English and creative arts programs, which consistently rank at the top. Writing is an important part of the Yale undergraduate curriculum, with over a hundred introductory writing courses to choose from featuring a broad range of topics.
Yale, like Harvard, is host to a residential college system that makes the undergraduate experience well-rounded. The tight-knit communities that Yale students live in their sophomore through senior year allow students to forge strong relationships with both their peers and faculty as well as live in an intellectually stimulating environment. Yale also has a wealth of time-honed organizations and institutions, including several purported 'secret societies', popular among students.
PENNSYLVANIA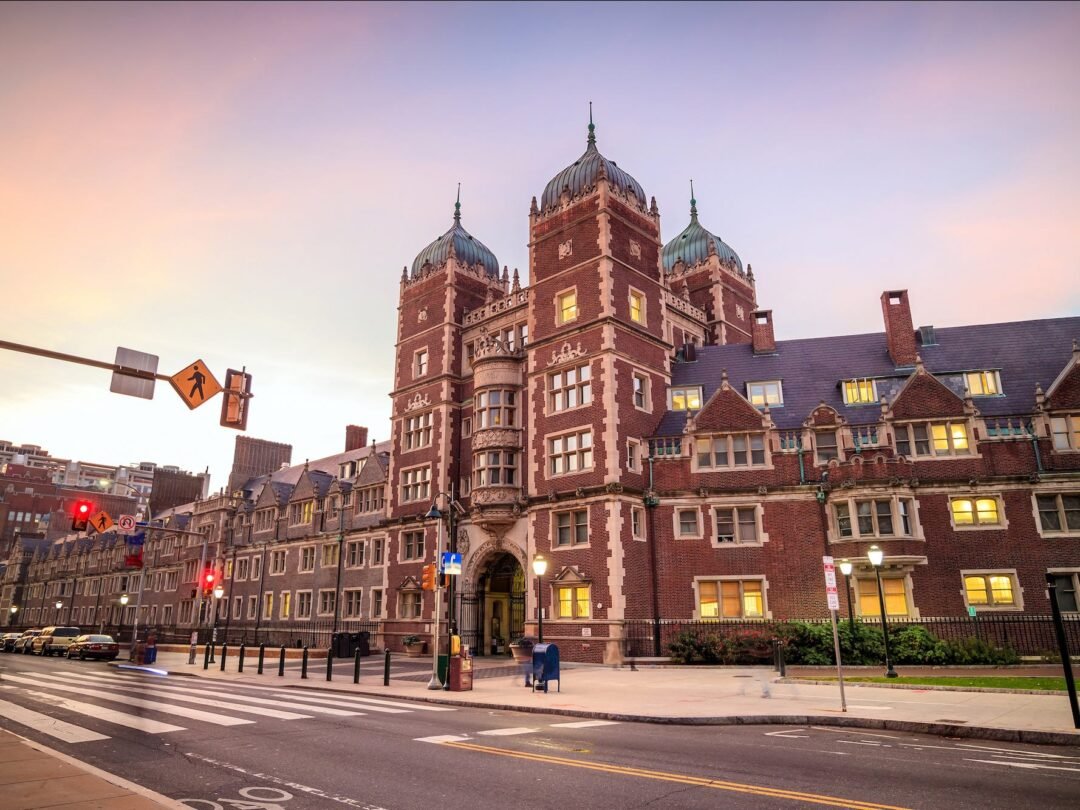 The University of Pennsylvania's location in the University City neighborhood of Philadelphia provides students an urban setting with professional opportunities for internships and employment as well as cultural and other recreational engagements. It has an acceptance rate of around 7.7% and is ranked first among the Ivy League schools for graduate earnings.
ACADEMIC AND STUDENT LIFE:
The University of Pennsylvania offers a mixture of world-class liberal arts coursework and preprofessional education.
It features 4 undergraduate schools: The College of Arts and Sciences, The School of Engineering and Applied Science, the School of Nursing, and the Wharton School of Business. The School of Nursing and the Wharton School set Penn apart from other Ivies, tending to focus more on a liberal arts education. The College of Arts and Science's curriculum requires instruction both in various disciplines as well as specific skill sets, depicting Penn's emphasis on applied, worldly education.
Penn has the most international students of all the Ivy League Prep schools. It has more than 300 student groups spanning political action efforts, performing arts, sports clubs and student publications where students can network with like-minded peers as freshmen, upperclassmen, or throughout the entirety of their time at Penn beyond the sorority and frat life.
Penn Athletics and Campus Recreation provides intercollegiate and recreational opportunities that enrich the Penn student experience, and make facilities and activities available to the entire campus community. Activities include yoga and fitness classes, sports clubs, intramurals, outdoor adventures, and much more.
DARTMOUTH
Dartmouth College is located in a small town, Hanover in New Hampshire. The suburban location and scenic beauty of Dartmouth's campus attract a crowd of its own and provides students with an environment for numerous outdoor student groups. It has an acceptance rate of about 7%.
ACADEMIC AND STUDENT LIFE
Dartmouth is renowned for its commitment to and emphasis on undergraduate education so be rest assured you will not be put second to graduates in terms of resources or attention. The college has more than 50 research-focused centers, institutes and groups in areas ranging from medicine and the arts to engineering and business. With a 7-to-1 student-faculty ratio and more than 60% of classes with fewer than 20 students, Dartmouth allows students to learn in a close-knit setting. More than 50% of students study through off-campus programs for an immersive, global and hands-on education. The most popular majors include Economics, Government and Engineering Sciences.
Greek life also plays a larger role at Dartmouth than at any other Ivy, with 60% of the undergraduate community participating. Dartmouth is significantly smaller featuring total undergraduate enrollment of just over 4,000 students. As a result of its relatively isolated location and small size, the undergraduate community at Dartmouth is very strongly connected.
BROWN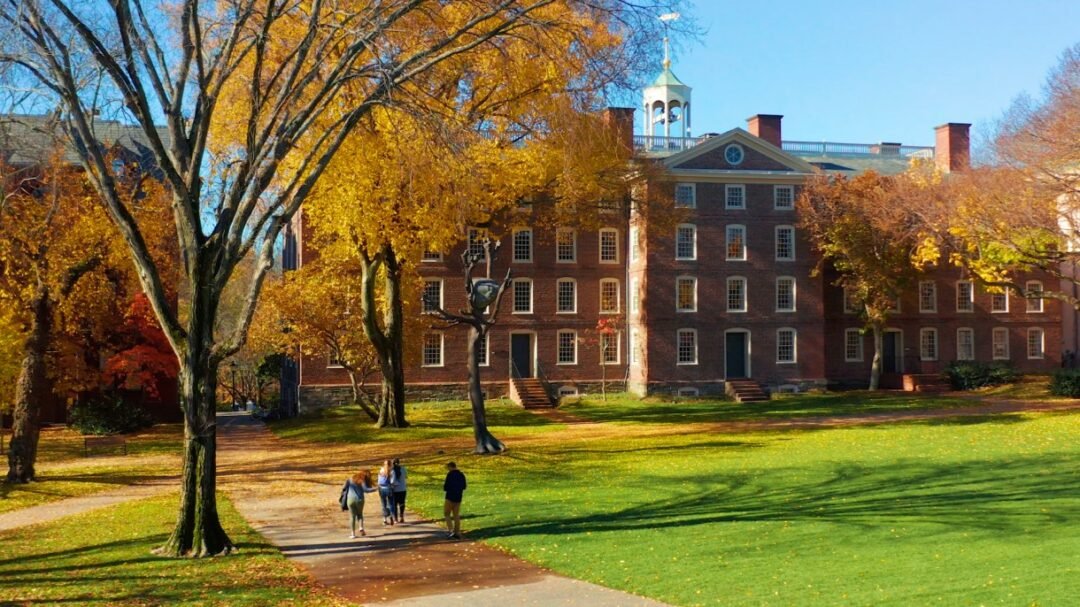 Brown University is located in Providence, the capital city of Rhode Island. Providence is relatively small, so Brown students don't fully experience the urban lifestyle however, the nearest major city, Boston, is only an hour-long bus ride away. It too has an acceptance rate of around 7%.
ACADEMIC AND STUDENT LIFE:
Brown, a private research institution, has a reputation for having the least competitive academic environment in the Ivy League as it embraces an open curriculum to allow students to design a personalized course of study while becoming inspired thinkers. This open academic program for undergraduates comprises rigorous multidisciplinary study in more than 80 concentrations. Students at Brown can take as many classes as they want Pass/Fail, indirectly making grades optional. In general, the academic culture at Brown encourages finding own interests and experimentation, and it is specifically designed to allow students to branch out to areas outside their majors without fear of their GPAs suffering as a result.
The famous Brown University Library holds more than 250 special collections, each home to rare primary research materials.
Undergraduates have more than 500 clubs and organizations to choose from, and all first-year students live on campus. Brown is also famous for being among the most progressive schools in the nation. Discourse about issues of gender, sexuality, race, and inequality is prevalent on campus.
Brown consistently ranks highly on lists of happiest colleges, probably due to its relatively relaxed environment. Brown students are also given free access to museums and other cultural centers in Providence that enrich the student experience.
CORNELL
Cornell University is located in Ithaca, a town in upstate New York. Cornell's campus features a striking natural environment and its campus is among the largest in the Ivy League spread across 745 acres. Its acceptance rate is close to 11%.
ACADEMIC AND STUDENT LIFE:
Cornell's specialized and often unconventional programs in a variety of fields allow undergraduates to pursue an education tailor-made to their interests. Boasting 80 majors and 122 minors, Cornell describes itself as a forerunner in education.
Each of Cornell's seven undergraduate colleges and schools admits its own students and provides its own faculty, even though every graduate receives a degree from Cornell University. Cornell's two largest undergraduate colleges are the College of Arts and Sciences and the College of Agriculture and Life Sciences. Graduate schools include the highly ranked Cornell SC Johnson College of Business, Weill Cornell Medical College, College of Engineering and Law School. Cornell is also known for its top-ranked College of Veterinary Medicine and esteemed School of Hotel Administration.
Cornell features by far the largest undergraduate enrollment of any Ivy League school, with over 15,000 full-time students. Cornell's quaint rural setting and the prevalence of Greek life stand in contrast to smaller, more urban Ivies. Campus life and recreational activities at Cornell take advantage of the natural setting and relative isolation of the campus. Many student groups involve outdoor activities; athletics, hiking in the surrounding wilderness, and canoeing in the nearby Finger Lakes are common getaways for Cornell's students.
The Ivy League Prep are highly exclusive, prestigious and thus all the more difficult to get into. We at Rostrum Education are here to help you with your Ivy League preparation! Our mentorship team consists of former Deans of admissions of the Ivy League universities, who will guide you through the application process.