PURSUING MEDICINE FROM THE UK- HOW TO GO ABOUT IT?
The importance of public health and the medical profession has come to the forefront during the COVID-19 pandemic, as primary healthcare workers came out as true warriors, fighting the deadly disease out at large. As many sought out to add to the existing medical workforce, university applications to medical programms saw a huge surge world over.
You too might be one of the people who is inspired by the work of medical professionals and would like to add to the noble cause of saving lives and making the world a better place by becoming a doctor or a medical professional. But where do you start, especially if you want to apply to some of the top medical schools in the UK? We at Rostrum have got you covered!
WHY STUDY IN THE UK?
The UK is a top destination for higher education, especially for international students, owing to the high quality of education and research opportunities. Students in the UK develop critical thinking and the right knowledge, skillset, and network to help them with their future careers.
According to QS News Ranking 2022, 43 of the top UK universities are in the top 650 medical universities in the world. The average income of a Doctor/ Physician in the UK is 67 percent more than that of other health and medical jobs. For the past six years, the pay grade of doctors/physicians has been steadily rising. The average annual salary has risen from 245,000 GBP in 2016 to 318,000 GBP in 2021.
To practise medicine in India, MBBS graduates from UK universities are not required to take the Foreign Medical Graduate Examination.
Moreover, in the United States, MBBS takes 7 to 9 years to finish, however in the United Kingdom, it takes 5 to 6 years.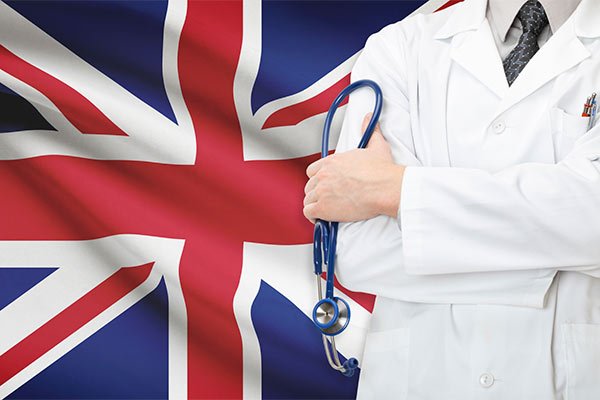 Studying medicine in the UK takes things a step further with better benefits than other courses. Academic institutions and universities in the UK are leaders in medical research, with The University of Oxford and The University of Cambridge consistently coming out as the best universities to pursue medicine. Apart from Oxbridge, universities like Imperial College London, Queen Mary University, University of Glasgow, University College London, among others, are some universities that are globally recognised as one of the best. Studying in the UK will open you up to experiences and opportunities that are unparalleled, as you'll get to work with not only the best medical professional (often led by NHS education providers), but also highly increase your employability chances.
FEE STRUCTURE IN UK UNIVERSITIES
The United Kingdom is noted for its excellent educational standards and for providing the greatest medical education to students all around the world. The key motive for applying is the low cost of MBBS in the United Kingdom for Indian aspirants.
The cost of an MBBS in the United Kingdom for an Indian student ranges from $130,000 to $340,000 depending on the school to which you apply, including tuition fees and other expenditures. Before applying, candidates can review the precise cost structures of the country's most popular institutions and colleges.
HOW TO GO ABOUT IT?
The first step would be to look at the med-schools and the kind of courses that they offer. The most important thing while applying to the UK are the admissions tests, of which there are two – University Clinical Aptitude Test (UCAT) and BioMedical Admissions Test (BMAT). Depending on the medical school you wish to apply to, you'll have to take the tests. The Universities of Oxford, Cambridge, Imperial, UCL require the BMAT, while the Universities of Glasgow, Edinburgh, St. Andrew's, Warwick, King College will require you to give the UCAT. The BMAT is deemed much more extensive, as it seeks to test students' scientific knowledge and includes an essay writing section, apart from just the aptitude test. These factors can be decisive while deciding which exam to take.
The Universal Clinical Aptitude Test, or UCAT, is an aptitude test used by medical students to assess their innate abilities before entering clinical practice. It is a prerequisite for admission to a variety of medical and dental programmes. Universities in the United Kingdom who have partnered with the UCAT exam require undergraduate and postgraduate medical students to complete this 2-hour computer-based aptitude test in order to shortlist the top prospects for their university.
The UCAT does not have a specific curriculum with subjects that you must study in order to pass the exam. It's an aptitude test to find out what kind of behavioural, practical, logical, and problem-solving skills students possess.
The BioMedical Admissions Test, or BMAT, is another common admissions test used by multiple medical schools in the UK. This test is required by certain UK medical schools (as well as many in Europe and Asia), make sure you're aware of the specific requirements for the institutions your're applying to. Universities all over the world utilise the BioMedical Admissions Test (BMAT) to assist select applicants for medical, dentistry, biomedical, and veterinary degree programmes. It assesses your ability to apply scientific and mathematical knowledge, as well as problem-solving, critical thinking, and writing communication abilities, all of which are required for university studies. The BMAT allows you to stand out from the crowd. If you're applying to schools that need it, you'll need to register for the BMAT before completing your application, but the test isn't given until after the application is filed, which is normally around the beginning of November. It is important to note that registration must be completed at least one month prior to the exam date.
TOEFL ENTRANCE EXAM
The Test of English as a Foreign Language (TOEFL) is a standardised test used to assess non-native English speakers' abilities for enrollment in English-speaking universities. More than 11,000 universities and other organisations in over 190 countries and territories accept the test.
For BMAT, UCAT, IELTS/TOEFL, or any other test preparation, we are here to help you! Please feel free to contact our Tutoring Team. We provide tutoring for students all over the world including India and UAE.
WHAT ABOUT WORK EXPERIENCE (UCAS)?
There are two key sections of this application: Work Experience and the personal statement essay.
For the purposes of applying to medical school, "Work Experience" refers to any work done, volunteer or paid, in the 2 years prior to applying to medical school. This experience can be gained through a hospital or in the community, and both healthcare-related service and general service positions are relevant to your application.
There are 2 categories of work experience in the UCAS:
1. Working with people in a caring or service role
2. Direct observation of healthcare
If at all possible, applicants should take part in a caring or service job, particularly with persons who are ill, disabled, or underprivileged. While such encounters can occur in a healthcare setting, it is not required. Reviewers want to see you putting yourself in the service of others, and they want to know about your collegiality, teamwork skills, and general interpersonal skills. In that sense, a customer service career would be appropriate, as all of these skills are essential to success in this industry.
WHAT ABOUT THE REMAINING PART OF THE APPLICATION?
The rest of the process, apart from the medical tests, essentially remains the same as any other UK application. Oxbridge would still require you to take the test and submit the application before 15 October. Your personal statement and school grades are imperative and can make or break your application.
MED SCHOOL ADMISSIONS
As for interviews, most medical schools follow the 'Multiple Mini-Interviews' (MMI), which are multiple 10-minute interviews. Before each interview, you're given a scenario and given time to prepare for each. These may then entail an interviewer asking you questions, or you might have to engage in a role-playing scenario.
Rostrum has a robust system and experienced staff in place to completely prepare you for these nerve-wrackign interviews. We make sure you enter each interview as confident as ever.
HOW CAN ROSTRUM EDUCATION HELP?
We at Rostrum Education help students with their med-school preparation to get into some of the top universities in the world. Our network consists of specialised tutors and medical professionals from some of the best universities in the world, and our mentors have been helping students with Oxbridge prep and UK admissions for years. Our process is highly personalised and bespoke and catered to your strengths and needs. We follow a highly specialised 8-step process that focuses on each aspect of your application – from the course and university shortlisting, test preparation, personal statement, and interview preparation, to finally accepting your admissions offer.
Interested in pursuing medicine from the top universities in the UK? Find out more about our process. Book your free consultation with us today.